Mechanical Ventilation with Heat Recovery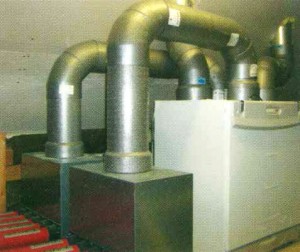 What is MVHR?
Mechanical ventilation with heat recovery (MVHR) combines the merits of Mechanical Extract Ventilation (MEV) with heat recovery. This enables up to 91% of the heat lost through extraction to be conserved and retained in other habitable rooms in a dwelling. Highly efficient and cost-effective, MVHR doesn't waste the existing heat in the property; instead, it distributes this heat evenly in living rooms, dining areas and bedrooms.
How does MVHR work?
MVHR works through a clever combination of air extraction and supply. Stale, moist air is extracted from wet rooms while, at the same time, fresh air is brought in from outside. The extracted air passes over a heat exchanger, at which point the heat is collected and used to warm the incoming air. The result: a consistently comfortable indoor environment and increased efficiency. Xpelair offers both centralised and single room MVHR systems, so there's a solution to suit all applications.
Contact
Tirconaill Dampproofing for more information about our MVHR systems or download our
MVHR & Central Vacuum Systems Brochure